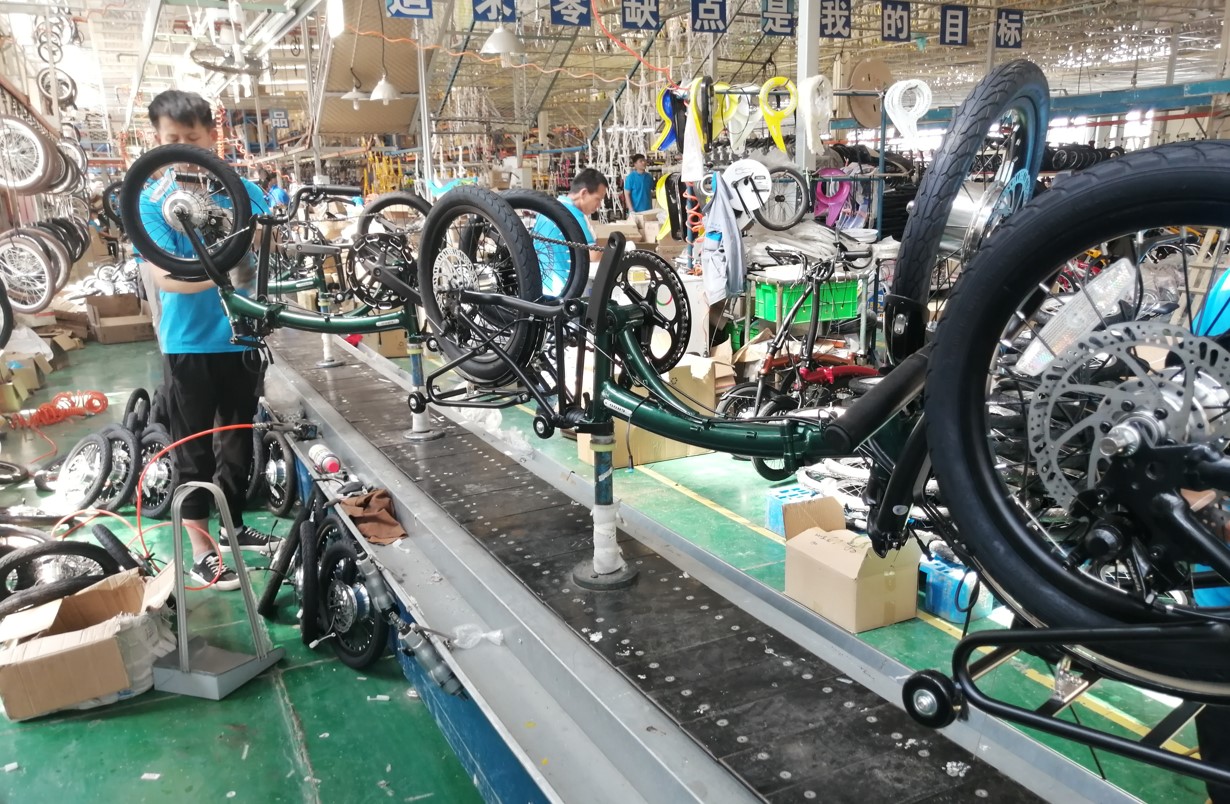 Searching for recent news about the bicycle industry, there are two topics that cannot be avoided: one is hot sales. According to data from the China Bicycle Association, since the first quarter of this year, the industrial added value of my country's bicycle (including electric bicycle) manufacturing industry has increased by more than 30%. From January to March, the output of bicycles above designated size was 10.7 million, a year-on-year increase of 70.2%; The output of bicycles above designated size was 7.081 million, a year-on-year increase of 86.3%.
    The other is price increase. Since the beginning of this year, some brands of electric bicycles with strong bargaining power have increased their average selling prices by between 5% and 10%.
    Hot sales and price increases reflect the booming production and sales of the bicycle industry since last year, but can it continue next?
    Zhonglu Co., Ltd. is a well-known bicycle manufacturer in China. The "Forever" brand bicycles produced by its subsidiaries, together with Shanghai Phoenix and Tianjin Feige, are regarded as national brands. The company's 2020 annual report shows that last year the company achieved operating income of 734 million yuan, a year-on-year increase of 25.60%, the highest in the past ten years.
    Where does the high revenue growth come from? From the perspective of business structure, the bicycle business is the main source of Zhonglu's operating income, accounting for 78.8% of the revenue. In terms of sales volume, sales of bicycles and strollers increased by 80.77% year-on-year. In terms of different markets, operating income in the domestic market increased by 29.42% year-on-year. The large increase in sales directly drove the rapid growth of revenue and realized a turnaround from loss to profit.
    Xinlong Health is a manufacturer of bicycle parts, and its data reflects the sales of bicycles last year from another perspective. In 2020, the company's bicycle accessories orders have increased significantly year-on-year. The increase in sales of spare parts has driven the development of Xinlong's health performance.
    The 2020 industry export data released by the China Bicycle Association a few days ago also cross-confirmed this. Statistics show that my country exported 60.297 million bicycles last year, a year-on-year increase of 14.8%. After the United States suspended tariffs on some bicycle products, vehicle exports rebounded, with 16.216 million vehicles exported to the United States throughout the year, a year-on-year increase of 34.4%.
    Regarding the reason for the popularity of bicycles, industry experts believe that due to the need for epidemic prevention, people's demand for short-distance travel has greatly increased, and bicycles, including electric bicycles, are undoubtedly the best choice. In addition, many European and American countries have introduced purchase subsidies, increased bicycle lane construction and other incentive measures, which further stimulated bicycle consumption.
    Can the hot sales last? The relevant person in charge of the China Autonomous Association predicts that the output of bicycles will reach 80 million in 2021, and the output of electric bicycles will be around 45 million. It is expected that the export of bicycles and electric bicycles will also achieve double-digit growth.
    Since the beginning of the year, there have been media reports that while selling well, some electric vehicle brands have issued notices to dealers about price increases. A reporter from the Economic Daily recently visited several electric bicycle stores and found that the situation was different. Some brands have not increased their prices, some claim to have increased their prices, and some said that although the prices have increased, they can be further reduced in the form of discounts.
    From the point of view of manufacturers, Emma electric vehicles have previously issued price adjustment notices to dealers, and the average single-vehicle increase ranges from 80 yuan to 200 yuan. According to Yadea electric vehicle agents, since the beginning of the year, the sales price of Yadea vehicles has risen by 100 yuan. In addition, many electric bicycle parts companies have issued notices of price increases.
    Industry experts said that price increases have a lot to do with rising prices of raw materials. Since April last year, as the prices of international bulk commodities have continued to rise, the prices of raw materials such as steel, aluminum, copper, plastics, tires, and batteries related to industry production have risen to a record high. The upstream price changes are transmitted to the midstream parts and downstream vehicles.
    In addition, the new national standard, which was launched in April 2019, requires two-wheeled electric vehicles to undergo 3C certification. Some believe that in order to meet the requirements of the new national standard, electric bicycle manufacturers will further improve their materials and processes, and their costs will increase accordingly. In addition, the increased demand for electric bicycles during the epidemic will drive their retail prices to rise.
    The relevant person in charge of the China Auto Association said that price increases have not yet become a common phenomenon in the industry. At present, there are two main types of companies that have increased prices. One type is an enterprise that enters the industry with an Internet identity, and its sales volume is not large, and its profit is more important; the other type is a leading company with a strong market voice and dare to increase product prices. Transfer the pressure of rising raw material costs.
---
Post time: Sep-09-2021